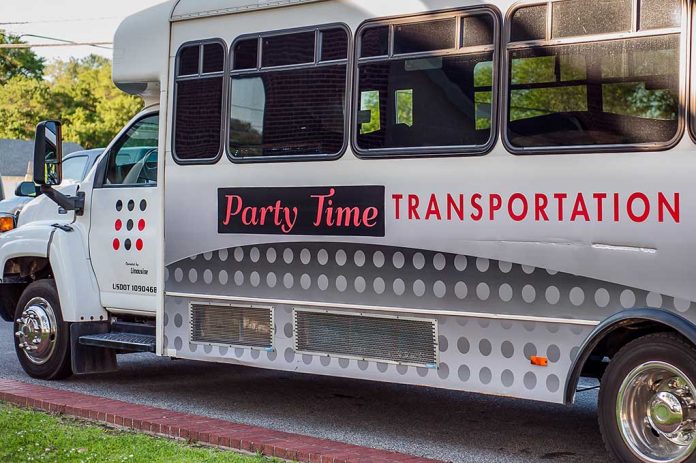 (NewsBroadcast.com) – COVID-19 has impacted the world in so many ways, some that we didn't even consider until faced with the dilemma. One such crisis exists in states across the country, including Massachusetts: a shortage of buses and bus drivers. As a result, schools are scrambling to not only get students to school on time and safely, but it's also impacting field trips. One school came up with a creative, shall we say, solution that's raised more than a few eyebrows.
On Friday, September 17, Brooke Charter Schools had a field trip slated, but they had one major problem: the charter bus they hired fell through. Of course, when you have kids excited about a trip, you do everything in your power to make it happen — even if that means hiring a party bus, complete with a stripper pole and party lights. One teacher tweeted (since deleted) about the incident, and it went viral, bringing an important message to the masses.
Bus Driver Shortages
Over the last several weeks, it's become common knowledge that schools are struggling to keep bus drivers. Massachusetts is one state that had to take drastic measures to ensure children made it to school. The governor, Charlie Baker (R), deployed approximately 250 National Guardsmen to take over the roles. Other states, such as South Carolina and Ohio, are considering the same measure. Texas, New York, and Pennsylvania officials are scrambling, too.
What Started the Problem?
The root of the problem lies within the pandemic. In 2020, when students transitioned to remote learning to curb the spread of COVID, bus drivers were no longer needed. As a result, transportation companies ended up laying off or furloughing many, if not most, of their drivers in an attempt to cut costs.
However, this likely could've been avoided. Schools received billions in federal aid to help make it through the pandemic, but most didn't pay the contractors who drove their students to and from school each day. When those drivers were laid off, they found other jobs — now, they don't want to go back to driving for schools, and why would they?
Bringing Attention to the Issue
Jim Mayers, the teacher who originally tweeted about the party bus, is worried people won't get to the heart of the matter. He emphasizes that it's fun to see the event and make it go viral, but there are more systemic problems he wants people to consider.
a note about the tweet: pic.twitter.com/ZQTiOZbZLv

— Jim Mayers (@mayersteach) September 20, 2021
Right now, there's no happy ending to the story. Many schools still struggle with finding drivers, and the kids are the ones suffering except those at Brooks Charter Schools who got to enjoy the day partying like rock stars.
Copyright 2021, NewsBroadcast.com