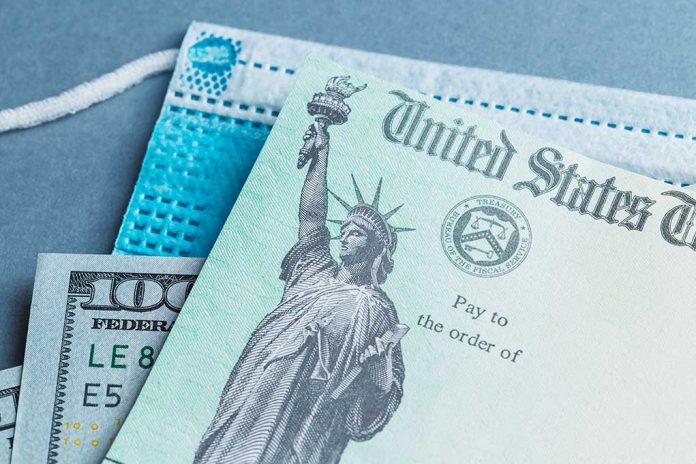 (NewsBroadcast.com) – During the height of the pandemic, when most of the country was shut down, Congress approved several measures to help Americans survive. The 2020 CARES Act and the 2021 American Rescue Plan Act both provided stimulus payments to help citizens weather the storm. Now, it seems people want more — to the tune of at least $2,000 per month.
A recent change.org petition has reached over 3 million signatures. Created by Stephanie Bonin, the petition says the pandemic has been "catastrophic for working families," many of whom have been forced to stay home or have been laid off as a result of COVID-19 measures. Her solution? A monthly stipend of $2,000 per adult, and an additional $1,000 per month per child.
CARES and American Rescue Plan Acts
In 2020, Congress passed the CARES Act under then President Donald Trump. As a provision, many Americans received a stimulus check up to $1,200, along with up to $600 per child. Then in December 2020, the Tax Relief Act provided up to an additional $600 per adult and child.
When President Joe Biden took office in 2021, many Americans saw even more relief with the American Rescue Plan Act of 2021. Adults received a stimulus check of up to $1400, plus the same amount for qualifying dependents. Of course, Liberals were up in arms that the payment was less than the $2,000 they claim they were promised.
Also in 2021, those who qualified — and opted in — received monthly child tax credit payments of $250 or $300 per child, depending on their ages. When pressed with the question if Americans would see another stimulus check, House Speaker Nancy Pelosi (D-CA) pointed to these payments as economic stimulus.
National Debt Is a Concern
For the first time ever, the country's national debt has reached $29.8 trillion. A large part of this is, in part, due to the pandemic. As of October 21, the US borrowed approximately $5 trillion to help the country come out on the other side. This money has gone towards relief programs, such as the Paycheck Protection Program, and economic stimulus programs that benefit many citizens.
The problem is, though, we can't keep borrowing and increasing the national debt, it could cause economic instability and force a government default. Many believe the answer isn't necessarily borrowing more money, but ending government overreach to help Americans get back to normal.
Despite the petition's obvious popularity with over 3 million Americans, there has been no concrete discussion of a future stimulus payment from lawmakers, though House Majority Leader Steny Hoyer (D-MD) did say he expected the White House to explore an emergency funding bill as a result of the Omicron variant and its impact.
Time will tell if Americans receive another payment or if the concerns of our national debt are enough to deter lawmakers.
Copyright 2022, NewsBroadcast.com