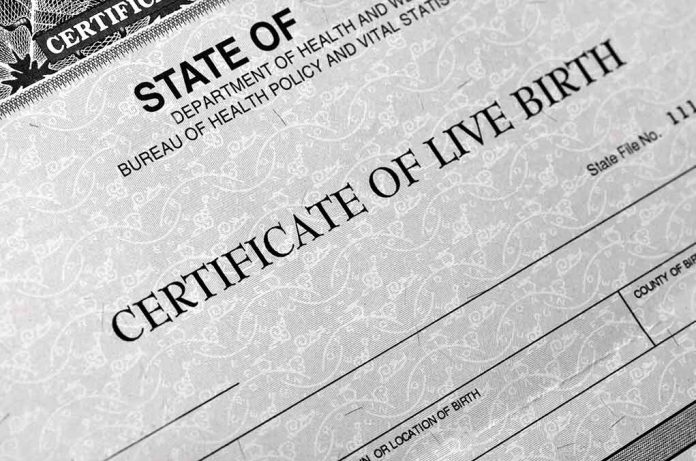 Birth Certificates Must Now Have THIS Or They're Banned!
(NewsBroadcast.com) – Unless one has been imitating Rip van Winkle and slept for the past 20 years, then they are aware of the culture war taking place in the United States between (generally) Conservatives and activists from the LGBTQ+ community. Republican Oklahoma Governor Kevin Stitt signed into law a bill that mandates that only genders may be shown on official state documents such as birth certificates.
Oklahoma's Governor Stitt Just Signed A Ban On "Nonbinary" Birth Certificates 💪
https://t.co/GFoSjGDJHT

— Not the Bee (@Not_the_Bee) April 27, 2022
The saga started in 2019, when Kit Vivien Lorelied who now resides in Oregon — who was born in the Sooner State as a male — asked to have their birth certificate changed to reflect their "non-binary identity." The request was denied. As a result, Lorelied filed a lawsuit against Oklahoma authorities. After more than a year of legal proceedings, the Oklahoma State Department of Health (OSDH) relented and issued a revised birth certificate form to him.
In response, Governor Stitt issued an executive order in November 2021, stating that OSDH officials took that action without his administration's approval in order to halt the practice — an administrative action based on existing law. The Republican majority state legislature took up the matter and passed a measure limiting state documents to two genders, and the Governor signed it into law.
New York City-based Lambda Legal, a law firm dedicated to the advocacy of "advancing the rights of LGBT people," preemptively filed a complaint in federal court in anticipation of the laws passage.
The state has yet to respond, but given the strong language used by state legislators, don't expect them to surrender easily.
Copyright 2022, NewsBroadcast.com