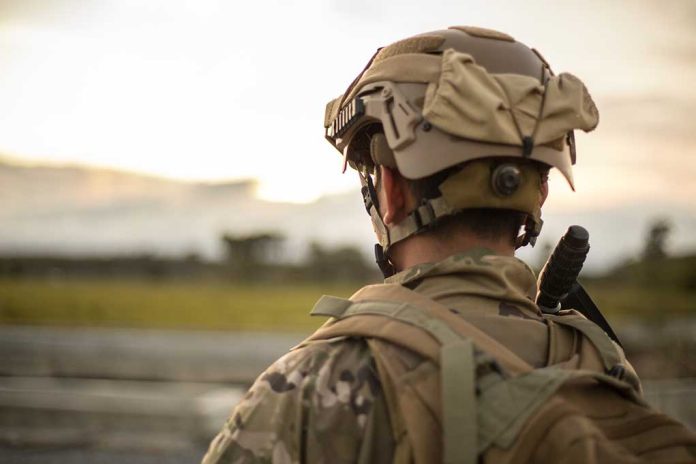 Suffering Veterans To Get Huge GIFT From The Senate
(NewsBroadcast.com) – When large numbers of military personnel are posted overseas, one byproduct is an equally large production of trash, including everything from notepaper to hazardous chemicals. Until 2010 or so, the methods used included digging a big hole, putting all the garbage into it, lighting it on fire using dangerous accelerants (including jet fuel), and then assigning people to watch over it. The pits caused major health issues for soldiers who were exposed to them. After years of fighting, the government is finally going to do something to help them.
One of the soldiers injured by burn pits was Sergeant First Class Heath Robinson, who served with the Ohio Army National Guard. He is now being honored posthumously in the title of a bipartisan bill, Sergeant First Class Heath Robinson Honoring Our PACT Act of 2022, introduced by the top two members of the Senate Veterans' Affairs Committee, Senators Jerry Moran (R-KS) and Jon Tester (D-MT). The lawmakers will craft legislation that mirrors a similar bill passed by the House of Representatives in March that will provide benefits to servicemembers and their families who are impacted.
"The Senate took an important step today with the bipartisan agreement announced by Chair Tester and Ranking Member Moran to advance the Sergeant First Class Heath Robinson Honoring Our PACT Act of 2022.."https://t.co/mKEoRvuJk5

— AVA Law Group, Inc. (@AVALawGroup) May 19, 2022
One important aspect that these bills will provide is a "presumption of service connection" between a veteran's exposure and some two dozen diseases related to respiratory problems and cancers. That means the patient does not have to prove a direct cause-and-effect relationship to get the medical aid they require.
Moran claimed in remarks before the committee earlier this year that since the events of 9/11, "approximately 70% of burn pit claims have been denied by VA." Celebrity advocate Jon Stewart has called the long delay in getting legislation passed "unconscionable." Veterans and their family members who have suffered might call that an understatement.
Copyright 2022, NewsBroadcast.com