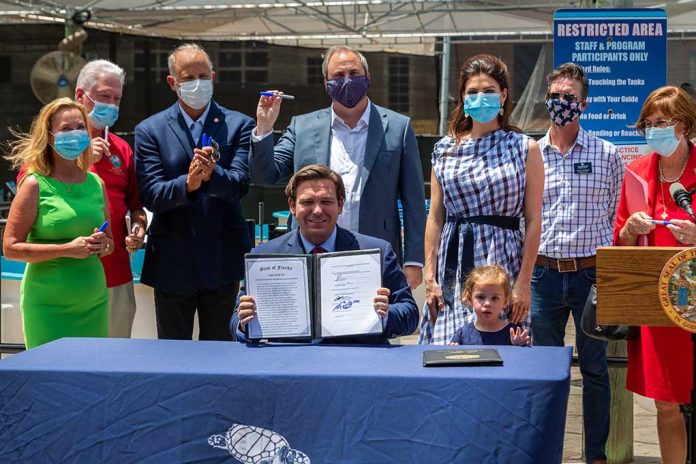 Casey DeSantis Issues Special News – Fans Notified!
(NewsBroadcast.com) – In 2022, it's estimated that nearly 340,000 women will be diagnosed with breast cancer, or roughly 1 in 8 women. According to The American Cancer Society, thanks to earlier diagnosis and advanced treatments, these women now have an overall 5-year relative survival rate of 90%. Thankfully, Florida's first lady, Casey DeSantis, can count herself in that 90%. In fact, in addition to being cancer-free, she's feeling strong enough to hit the campaign trail with her husband, Governor Ron DeSantis (R).
On Monday, May 9, Mrs. DeSantis appeared at a "DeSantis Day" event held in The Villages in Sumter County. She told the crowd she didn't know if it was "first lady-like" but she wanted them to know "damn, it feels good to be here."
Casey DeSantis returns to campaign trail after battle with breast cancer: 'Damn it feels good to be here' https://t.co/1eUvyLcWhF

— Fox News (@FoxNews) May 10, 2022
DeSantis, who was an Emmy-award-winning television host when she met and married then-Naval Officer Ron DeSantis, was diagnosed with breast cancer in October of 2021. After undergoing radiation therapy, Governor Ron DeSantis announced she was cancer-free in March.
Since her diagnosis, DeSantis has become an advocate for patients. She's helped to secure funding for cancer research and she personally visits patients across the state to show her support and offer encouragement. These visits also allow her to highlight the importance of early detection and improved screening processes.
While it's common to see political figures and their families as larger-than-life characters only seen when the cameras are rolling, it's important to remember that they are real people with real struggles and real problems, just like the rest of us. We are very thankful that DeSantis is cancer-free and back on the campaign trail. As for her message to Florida, she told voters it doesn't matter what they are going through in life, they should always "fight like hell."
Copyright 2022, NewsBroadcast.com