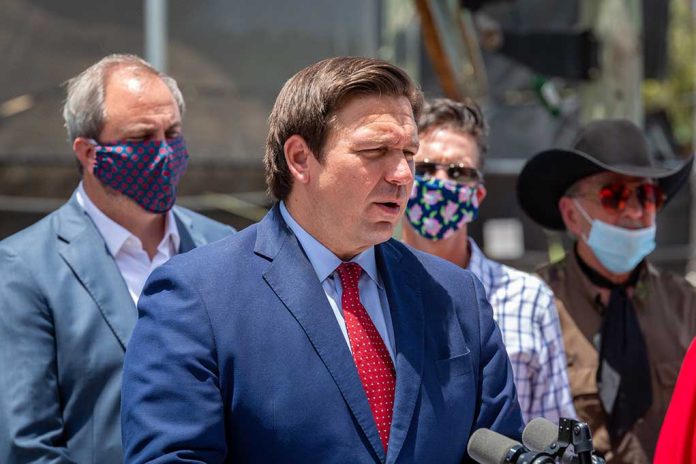 (NewsBroadcast.com) – As Americans take stock of how their governors and legislatures dealt with the coronavirus pandemic over the past two years, many voters may be second-guessing whether they still stand behind whomever they voted for in 2020. Democrat lawmakers and leaders enacted mask mandates and vaccine passports while shutting down small businesses and churches across their cities and states, hurting citizens' livelihoods across the country. Now, Florida's Republican Governor Ron DeSantis is urging voters to make their feelings known at the ballot box next year.
On Monday, December 13, DeSantis met with Fox News hosts on "The Ingraham Angle" to discuss everything from Biden's border policies to the Democrats' continued government overreach. During the exchange, the Florida governor laughingly noted the United States is on "day 700 of the 15 days to slow the spread." He lamented that although Americans gave left-leaning governors an inch, it seems they took a mile when it came to implementing lockdowns and mandates.
The Daily Wire shared the popular conservative leader's words on Twitter:
DeSantis Urges Voters Across U.S. To Punish Democrats For Pandemic Restrictions: 'Make Your Voice Heard' https://t.co/PmnqF8zW7W pic.twitter.com/ZDiGSUbsbR

— Daily Wire (@realDailyWire) December 14, 2021
DeSantis then urged voters who value their freedom in blue states to "make your voice heard" and "do a change of direction." He believes Democrats will continue their oppressive streak "until they suffer at the ballot box." While Americans must wait a year to see the midterm election results, they can help their communities move in the right direction now by supporting candidates that believe in and value freedom.
Copyright 2021, NewsBroadcast.com