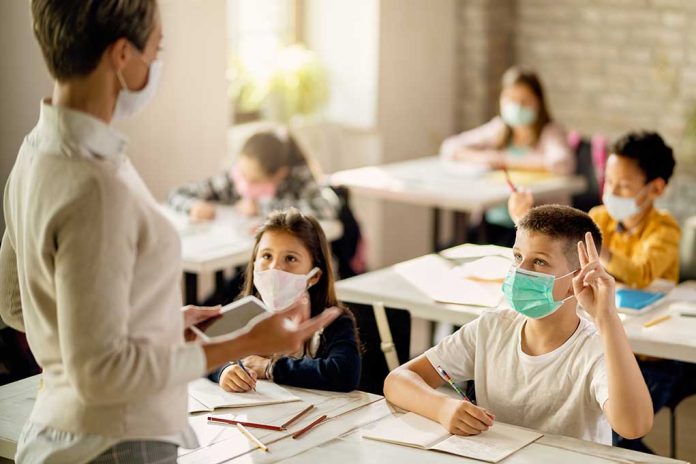 (NewsBroadcast.com) – Around the world, countries are grappling with how to move forward despite the coronavirus still lurking in their midst. Schools especially are facing difficulty with this as they try to cater to each parent's desires. However, one teacher took things too far when they forced a nine-year-old disabled boy to take an exam outside in freezing weather because he did not wear a mask.
In Voitsberg, Austria, nine-year-old Jason had to take a test outside when he chose to not wear a mask, despite the fact he had a valid mask exemption. The student's parents are considering transferring him to another school, as this is clearly an extreme punishment for a child who has done nothing wrong.
One concerned citizen shared the story on Twitter:
Headline case in Austria, other similar cases in the article, in the US.

9-Year-Old Disabled Boy Forced to Take Exam Outside in Freezing Weather Because He Didn't Wear a Mask – Summit News https://t.co/8fs59W2Qjh

— Andy (@AndyPhalanx30) January 18, 2022
While this may seem like an issue for another nation, similar instances are happening in the United States. Photos have circulated where young children sat outside on cold concrete in 27-degree weather in Virginia for socially distanced storytime. Similarly, parents of students in Boston Public Schools were recently told to bundle up their kids for school in two sets of clothing as the windows would be open four inches all day to circulate fresh, frozen air.
Despite studies already coming out about the ill effects of masking children for extended periods of time, nations continue to punish children for not wearing them, often by exposing them to extreme temperatures. Hopefully, parents and schools come to a compromise on this issue soon in order to provide for students' physical and emotional safety.
Copyright 2022, NewsBroadcast.com