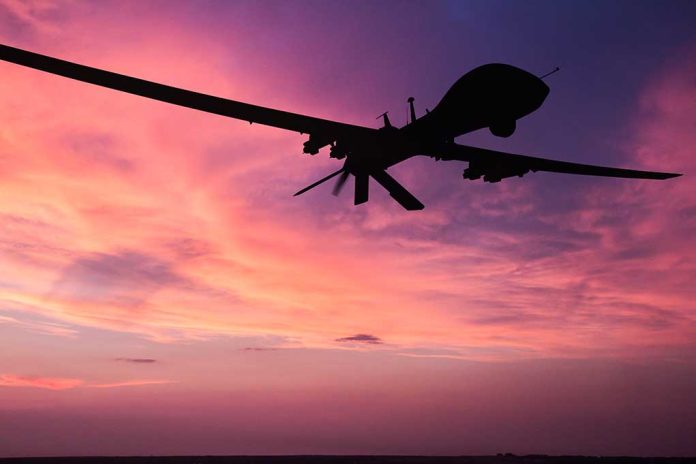 (NewsBroadcast.com) – President Joe Biden has made no secret of intention to reenter the Joint Comprehensive Plan of Action (JCPOA), also known as the Iran Nuclear Deal, which the US withdrew from in May 2018 under former President Donald Trump. Biden has been seemingly running in place with Tehran, with no significant strides towards reaching a deal. In fact, Iran has been downright hostile, challenging the US and allegedly using its militias to carry out drone attacks. US lawmakers are now demanding answers and punishment for these actions.
Lawmakers Demand Answers
On December 14, several Republican lawmakers, including Reps. Bryan Steil (R-WI), Joe Wilson (R-SC), Andrew Clyde (R-GA), and Brian Babin (R-TX), wrote to Secretary of State Antony Blinken about Iran. In the letter, they demanded answers to a lack of response involving a series of drone attacks Iran carried out this year, particularly the one perceived as an assassination attempt on Iraq Prime Minister Mustafa al-Kadhimi on November 6.
"American passivity and indifference to an assassination attempt by Iranian proxies is [deeply concerning] troubling" and will result in a broadening of tensions between the US and Iran, they wrote.
The letter also referenced the "flawed nuclear agreement with Tehran," and called out the regime for its attacks on US and coalition forces in Iraq. Lawmakers requested answers to several questions including:
A list of militias and Iran-backed groups not yet subjected to sanctions;
The administration's policy for countering attacks;
Any assistance provided to the Iraqi government for the purpose of attributing the attacks;
Specific punitive actions should Iran or its militias be found responsible.
So far, there has been no response from the Biden Administration.
The Increasing Dangers of Drone Attacks
With increasing technology comes an increased potential for danger. Drones, which can be purchased for hundreds or thousands of dollars online, much cheaper than military-grade equipment, make it easy to carry out targeted attacks without the need for troops.
In fact, many militaries, including ours, use these unmanned aerial vehicles (UAV) for a number of purposes including surveillance and reconnaissance, in addition to attacks. Add in bad actors, such as militias and terrorist organizations, and you have a recipe for disaster, like the strike at a hangar in Erbil, Iraq in April, and the one at the Baghdad Airport in June.
The use of drones also makes it hard to trace the origins of an attack; it's not like the military can canvass the area in search of forces.
At some point, Biden is going to have to reevaluate his decision to rejoin the JCPOA, particularly in light of Tehran's refusal to comply with sanctions and the country's continued move toward developing nuclear weapons.
Copyright 2021, NewsBroadcast.com