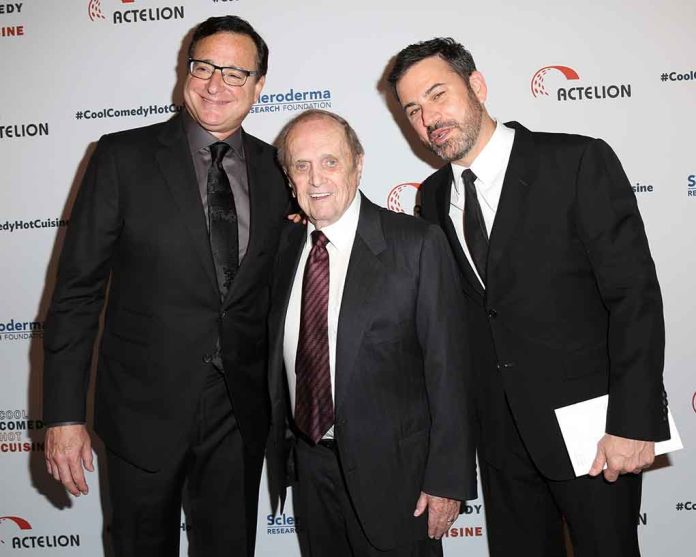 (NewsBroadcast.com) – Just days after America lost the beloved actress Betty White, news broke that comedian, actor, and Full House star Bob Saget passed away in a hotel room in Orlando, Florida. Saget was only 65, and there was no evidence of foul play or drug use. As news spread, his friends, including ABC host Jimmy Kimmel, quickly began extending their heartfelt condolences and tributes to Saget, a truly delightful man by all accounts.
On Monday, January 10, Jimmy Kimmel gave a heartfelt tribute to Bob Saget before bringing in his live audience on Jimmy Kimmel Live! He began by highlighting how everyone described the late comedian as "the sweetest man" who "always had a compliment" for others.
Kimmel emphasized how Saget kept any discouraging words to himself, if he even had them at all. The ABC host also noted that Saget was quick to remind other people they are loved, something the world would greatly benefit from if more people would follow in his footsteps.
The show shared the full tribute on YouTube:
Kimmel also emphasized to viewers how hilarious Saget was, and not just in his work on Full House and America's Funniest Home Videos. Lastly, Kimmel reminded listeners of Saget's work with the Scleroderma Research Foundation, which fights to end a rare autoimmune disease that Saget's sister died of in 1994.
All in all, Kimmel's heartfelt tribute reminded Americans across the nation how delightful and cherished Saget, his career, and his personality were to this country.
Copyright 2022, NewsBroadcast.com