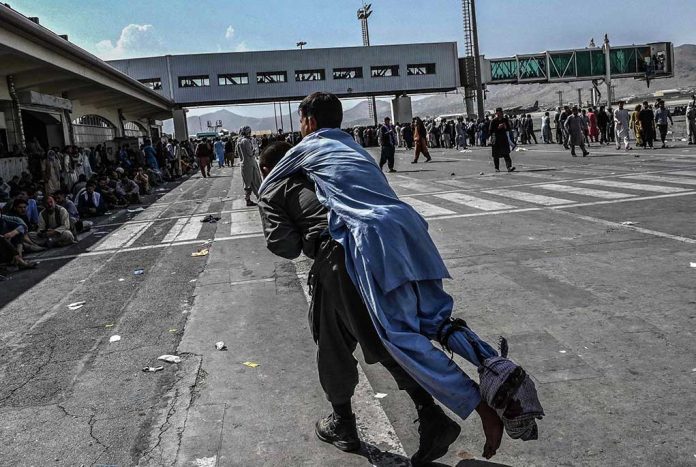 (NewsBroadcast.com) – Things are coming down to the wire on the self-imposed withdrawal deadline to get our troops out of Afghanistan. With just a few days remaining to evacuate Americans and our Afghan allies from the now largely Taliban-controlled country, lawmakers are calling on President Joe Biden to do more. It's not just Conservatives, though. This effort, led by Reps. Abigail Spanberger (D-VA) and Anthony Gonzalez (R-OH), has garnered bipartisan support.
On August 26, the Problem Solvers Caucus issued a statement calling on Biden to continue evacuations, even if it takes more time.
The Problem Solvers Caucus formally endorsed the following position: pic.twitter.com/e84qDBbWfj

— Problem Solvers Caucus (@ProbSolveCaucus) August 26, 2021
Taliban Sets 'Red Line' as Deadline Approaches
The August 31 deadline is one Biden set himself, which means that he could extend it — if he wanted to. However, one major hurdle to the extension is the Taliban's refusal to budge on the date. The extremist group's spokesman, Dr. Suhail Shaheen, released a statement flat-out denying any possibility of pushing the date back. In addition to calling the deadline a "red line," Shaheen says, "It will create mistrust between us. If they are intent on continuing the occupation, it will provoke a reaction." He did not elaborate on what the consequences would entail.
Despite this proclamation, lawmakers on both sides of the aisle say, "politics must be put aside" for the country's greater good. However, Biden intends to stick to August 31, even though there's significant doubt that we can evacuate all those we promised to.
Biden Rebuffs Allies
Biden met with NATO allies regarding the perilous situation in an emergency gathering with G7 nations, which was called by Britain's Prime Minister Boris Johnson. Despite pleas from the world leaders to extend the deadline, Biden put his faith in the Taliban, of all people. "Thus far, the Taliban have been taking steps to work with us so we can get our people out."
Suicide Bombers Create Additional Chaos
On August 26, the events in Afghanistan took a deadly turn. At least two suicide bombings and subsequent gunfire killed 13 US service members and more than 60 Afghans. ISIS-K is reportedly to blame for the attacks, and there's no reason to believe the terrorist organization will stop. Moreover, the Taliban has no way to control ISIS-K, and this severely compromises the evacuation operations.
So far, it's not looking like we'll get everyone out in time. If that's the case, what happens to those we leave behind? They'll surely be at the mercy of a regime that resented America's involvement in the first place.
Copyright 2021, NewsBroadcast.com