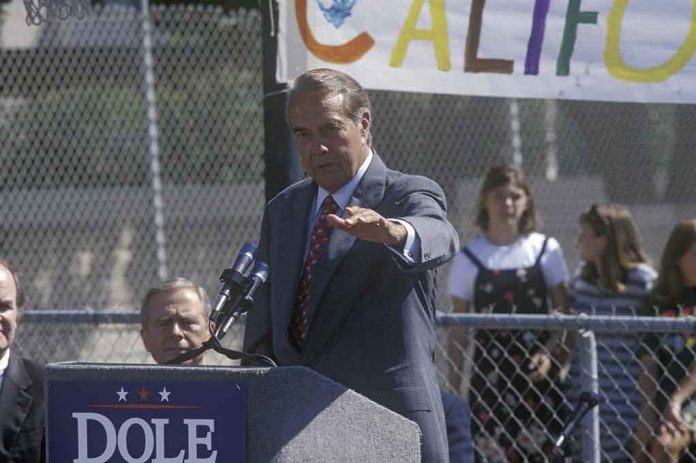 (NewsBroadcast.com) – Former GOP Senator Bob Dole lived a long life, before passing away on Sunday, December 5, at the age of 98. His political career was one for the books, with successful bids in the House and Senate. Following his death, many other politicians, including Mitt Romney spoke out about his character, calling him part of the "greatest generation" and a dear friend.
When I think of the greatest generation, I think of Senator Bob Dole—a man who dedicated his life to serving our country. Rest In Peace, my friend. Ann and I will be praying for Elizabeth, their family, and loved ones.

— Mitt Romney (@MittRomney) December 5, 2021
Bob Dole leaves behind quite the legacy. He was very successful in his career, having created and co-sponsored some of the most important bills and championed programs that became the beacon of hope for many. He's also largely responsible for the World War II Memorial, leading a campaign that raised $170 million for its creation.
Injury Leads to Important Act
Before Bob Dole became a politician, he served our country in WWII. His military service was short-lived, as he was shot during a battle in Italy in 1945. This injury left him with lifelong injuries, including temporary paralysis and permanent numbness, that sparked the creation of a very prominent bill that protects millions of Americans today.
Former Senator Orrin Hatch (R-UT) had the pleasure of working alongside Dole for nearly 20 years. He and Dole co-sponsored the Americans with Disabilities Act (ADA), which ensures people are not discriminated against because of their disability, whether physical or mental.
Dole also championed expanding benefits to help diminish poverty and hunger, namely the food stamps program.
Presidential Bids
While Dole was successful during his time in the House and as a US Senator, he had higher aspirations. He set his eyes on being the President of the United States more than once. In fact, he ran three times, the last time in 1996 against Democrat Bill Clinton. Dole retired from politics following his last attempt, but he still remained active, particularly in veterans affairs by supporting them in the Honor Flight Network.
To this day, Dole remains well-known for his efforts to reach across the aisle and take care of business. Other politicians hold him in esteemed regard for his ability to see commitments through and for his thoughtfulness.
1/2 While I was serving as a Senate page in 1987, Senator Bob Dole (who was then serving as the majority leader) gave me an elephant-shaped keychain pendant with his signature engraved on the back of it. That keychain became one of my most prized possessions.

— Mike Lee (@SenMikeLee) December 5, 2021
Bob Dole's funeral services took place on Friday, December 10, at the Washington National Cathedral, before his casket was taken to the World War II Memorial for a public service.
We extend our condolences to his friends, family, and loved ones.
Copyright 2021, NewsBroadcast.com