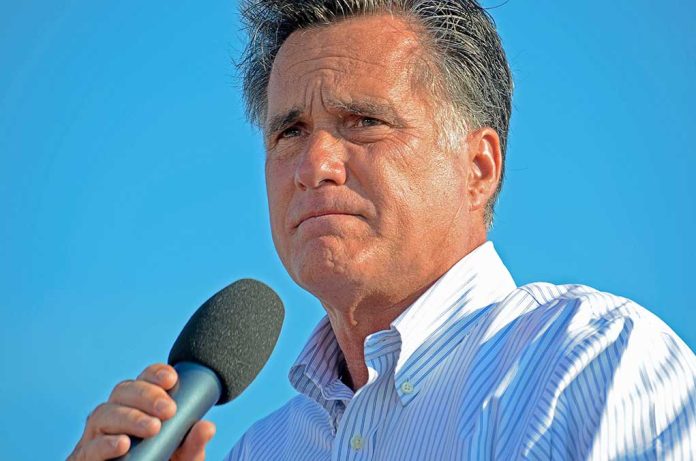 Mitt Romney's POLLING Results Are Finally Out
(NewsBroadcast.com) -Republican in Name Only (RINO) is a derogatory term used to describe a politician that ran on a GOP ticket only to be perceived as someone who seems to align more with a Democratic agenda. Former President Donald Trump applied that term to several members of Congress, such as Senator Mitt Romney (R-UT). But, of more import is the opinion of the voters within their state.
A Deseret News-Hinckley Institute poll released on July 27 asked the voters of the Beehive State, "Do you approve or disapprove of the performance of Sen. Mitt Romney?" Overall, 50% approved, 45% disapproved, and 4% had no opinion; with the survey's margin of error of 3.46%, it becomes a coin toss.
The new poll found 65% of Democrats approve of @SenatorRomney's performance in the Senate, while 30% disapprove. Among Republicans in Utah, only 46% approve, while 50% disapprove. | By @dennisromboy#utpolhttps://t.co/CETrLHCYcv

— Deseret News (@Deseret) July 28, 2022
However, when looking deeper, things begin to show whether or not the RINO label fits. According to the Deseret article on the poll, those who identified themselves as "very conservative" overwhelmingly found him wanting, with roughly 75% looking at him negatively.
Also, 65% of voters who see themselves as "moderate" cast him in a favorable light. Perhaps one of the most telling numbers comes from the "somewhat liberal" respondents, who gave him a thumbs up 72% at the time.
It would appear, at least on the basis of this one survey, that the residents of Utah would agree with Trump's opinion of the senator's politics. What do you think? Is Romney's "spirit animal" a red elephant or a rhinoceros that is purple shading towards blue?
Copyright 2022, NewsBroadcast.com