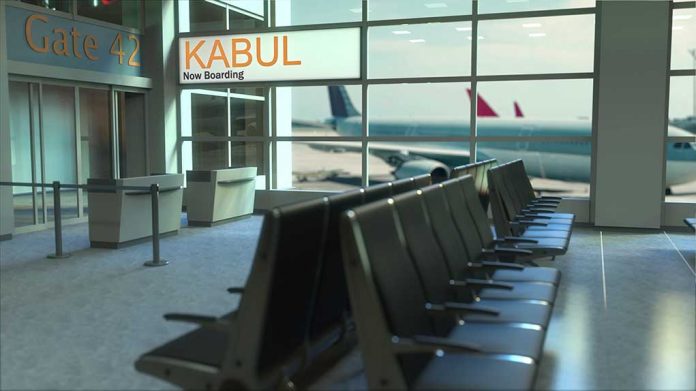 (NewsBroadcast.com) – Time is running out as the August 31 deadline to finish evacuations of Americans and Afghan refugees from Kabul quickly approaches. As our military continues to work overtime to save these people, they face new threats constantly. After multiple explosions in and around the Kabul international airport on Thursday, August 26, top military commanders warn that there could be more.
While the Taliban agreed to "control security outside of the gates" of the airport, they failed to do so this week. After the ISIS-K suicide bombs killed at least 12 US service members and many others near the evacuation site, US General Mark Kimmitt said the fundamentalist Islam government should be "embarrassed heavily" for their inability to protect the evacuation operation.
General Kenneth McKenzie Jr. addressed the US after the attacks, relaying the intel that top intelligence officials believe the ISIS-K faction will "continue those attacks." However, he issued a firm warning to the terrorists, declaring, "if we can find who is associated with this, we will go after them."
USA Today shared General McKenzie's briefing:
"The threat from ISIS is extremely real," said Gen. Frank McKenzie after the explosions Thursday at the Kabul airport.

"We believe it is their desire to continue those attacks, and we expect those attacks to continue." pic.twitter.com/U1Rfk9JzED

— USA TODAY (@USATODAY) August 26, 2021
While General McKenzie and President Joe Biden emphasized they are sticking to the August 31 deadline, these attacks have slowed flights out of the airport. Many Americans wonder what the plan is if the military can't complete all evacuations when time runs out. At this point, citizens must wait to see everyone's next step, from the Taliban and ISIS-K to our own president. Hopefully, the latter can bring justice and closure to this situation.
UPDATE: On Friday evening, August 27th, 2021, The US issued a retaliatory strike against the Islamic State. This is a developing story.
Copyright 2021, NewsBroadcast.com