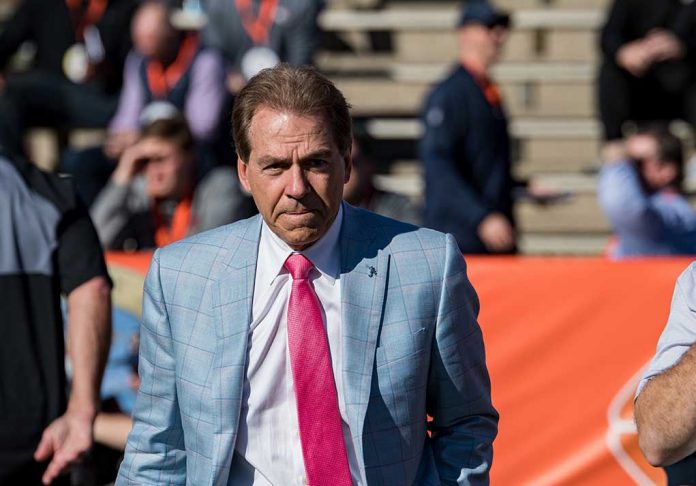 (NewsBroadcast.com) – The world of college football is full of lifelong rivalries, intense practices, and sometimes even tough love. In August, University of Alabama football Coach Nick Saban told reporters that tight end Jahleel Billingsley, a preseason second-team All-SEC pick, wouldn't be playing if he didn't meet the expectations set for him at practice. However, one reporter noticed a change in Billingsley in recent weeks and asked Saban to explain.
Sports fans know Coach Saban for his direct answers and refusing to beat around the bush or appease reporters. So, on Wednesday, September 22, when someone asked why he was allowing tight end Billingsley more playtime, coach Saban let loose.
Michael Bratton, the host of That SEC Podcast, shared Saban's words on Twitter:
Nick Saban's latest midweek rant

"Did any of you play sports? I mean, the coach is supposed to play the best players, right?!"

— SEC Mike (@MichaelWBratton) September 22, 2021
Saban clarified what many Americans still struggle to understand: not everyone always gets what they want, and the people or players with the best skills are the ones given the privilege of playing the game. After pressure from the top-notch coach, Billingsley rose to the standard set for him. Saban praised the player during the news conference, emphasizing that "he practices better, he's more engaged, he's more focused on what he's supposed to, and he's having more positive performance on the field."
Many people can learn from Billingsley's determination and spirit. In light of this, Coach Saban's high standards and tough love helped develop him into the player he is today. Hopefully, our world sees more of this intense and successful mentor-mentee relationship in all realms of life in order to build up a more prosperous society.
Copyright 2021, NewsBroadcast.com