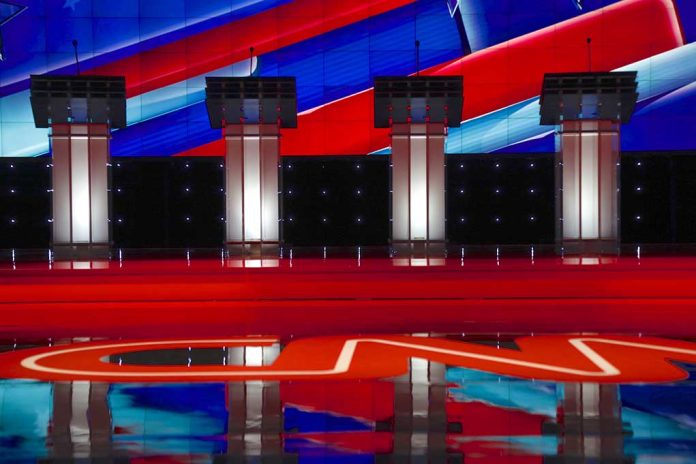 Election Debate CHAOS – Only One Candidate Says "Yes"
(NewsBroadcast.com) – The Arizona Republican Party has planned debates scheduled for June so voters can get to know candidates for highly-contested offices. The deadline for candidates to register has passed, and only Kari Lake, the Trump-endorsed gubernatorial candidate, has signed up to appear.
Lake let loose on Twitter to inform her prospective constituents of the message the other candidates are sending. She questions their ability to lead and to deal with the federal government, the media, or even the cartels at the southern border of the state if they won't get on stage for an exchange of ideas.
If my opponents are scared of debating a Newcomer to Politics (less than a year)… how can we expect them to stand against the Media? To go against the Feds? Or the Cartels?@AZGOP moved deadline to Monday: Do you think @MattSalmonAZ or @Karrin4Arizona grow a spine and debate? https://t.co/ebq4cmWgEM

— Kari Lake for AZ Governor (@KariLake) May 20, 2022
The conservative candidate told the Gateway Pundit that her opponents are weak RINOs and washed-up political insiders. Lake honed in on Katie Hobbs, calling her a pro-abortion leftist. She accused both of her opponents of being professional lobbyists and not what Arizona needs. Her argument seems to be simple enough: if candidates refuse to stand up for their records and express their platforms openly in front of their prospective constituents, they stand in the way of the transparency necessary for a democracy to thrive.
The debates will be moderated by AZ GOP Chairwoman Dr. Kelley Ward and will also showcase primary races for Secretary of State, Attorney General, and Superintendent of Public instruction. The party has extended the deadline to register for the debates to Monday, May 30, in hopes the other candidates will decide to participate.
Copyright 2022, NewsBroadcast.com