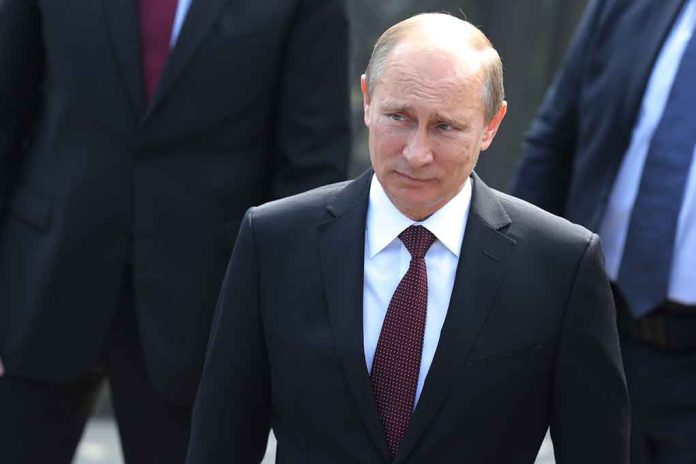 Putin Is Visiting One of America's Most Dangerous Enemies
(NewsBroadcast.com) – On July 12, the Kremlin announced that Russian President Vladimir Putin plans to take a trip. The Associated Press reported the leader will travel to Iran and attend a meeting with top officials from not only that country, but Turkey as well. The news comes only one day after the White House stated it thinks Tehran is planning to supply Russia with scores of drones to use against Ukraine.
BREAKING: Russian President Vladimir Putin will visit Iran next week to attend a trilateral meeting with the leaders of Iran and Turkey. https://t.co/UL5DbrpYTI

— The Associated Press (@AP) July 12, 2022
Kremlin Spokesperson Dmitry Peskov revealed Putin also intends to meet with Turkish President Recep Tayyip Erdoğan separately. It's unclear what they will be discussing in private, but the leader from Turkey did previously try to help with negotiations between Russia and Ukraine in March. However, Peskov said they will not be entertaining that subject this time around.
Jake Sullivan, the US National Security Advisor, said it is possible that Iran intends to train Russian forces and that it may have already supplied unmanned aerial vehicles (UAVs) to the Kremlin. However, he admits the information is unclear. That said, Iranian Foreign Minister Spokesman Nasser Kanaani did not deny the accusation. He said Iran and Russia had a relationship prior to the war in Ukraine.
Regardless, it seems Putin is strengthening its relationship with an American enemy, but to what end? The United States and its allies are backing Ukraine, so does this meeting mean Iran and Turkey are planning to side with Russia?
Copyright 2022, NewsBroadcast.com