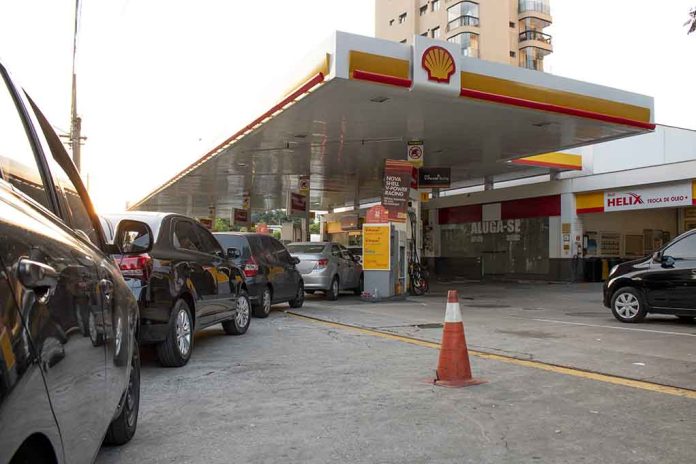 Gas Prices Going Down? – Something Changed?
(NewsBroadcast.com) – Saying that connections between economic health, crude oil prices, and the prices at the pump are complicated is like saying the sun is warm to the touch. Many economists and forecasters are predicting a worldwide recession is on the horizon (or perhaps has even started). While it may seem contradictory, that plays into the reason why people are paying less to fill their tanks this week.
According to the AAA, the average price for a gallon of regular gasoline has dropped to $4.881 as of June 28, 2022. That is down from the all-time record of $5.016 set on June 14, but still much higher than the $3.095 from last year.
The national average, according to AAA, is $4.89, down from the all-time high of $5.01 on June 14. https://t.co/ht4IkaP8Ki

— AL.com (@aldotcom) June 27, 2022
Added into the mix is the extremely volatile price of oil futures, for which the analysts use West Texas Industrial (WTI) crude as one of the benchmarks for the industry as a whole. Weakened demand — one indicator that a recession may be looming — drove the price below $104/barrel on Friday the 24th, but by early afternoon on Monday, it had rebounded to over $110/barrel.
Citing the recent increases in the interest rate as determined by the Federal Reserve Bank and rampant inflation, Goldman Sachs has said it sees a 30% chance of an economic downturn within the next year and Bank of America puts it at 40%, according to the New York Times. For those who remember the early 1980s, the Fed appears to be trying the same strategy of shrinking the economy and pushing unemployment higher to get inflation under control. It was painful then, so some experts say to expect that pain again, but they also noted that it worked.
Copyright 2022, NewsBroadcast.com