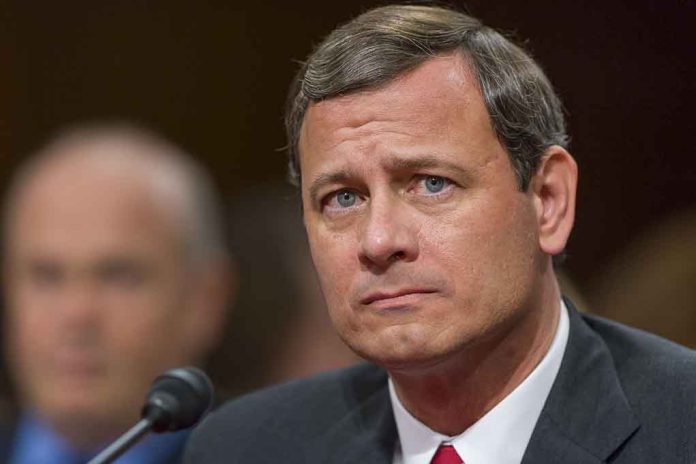 Justice Roberts In TROUBLE – Insider Tells What's Next
(NewsBroadcast.com) – History of sorts was made on May 2, 2022, when an unidentified person provided the first draft of a potential decision from the Supreme Court of the United States (SCOTUS) to reporters from POLITICO. In the case of Dobbs v. Jackson Women's Health Organization, the leak showed the court might overturn the 1973 landmark abortion case of Roe v. Wade. When it was published, the firestorms it started raged both within and outside the court.
When Chief Justice John Roberts confirmed the authenticity of the document that was released, he called it "a singular and egregious breach that trust [among all employees] that is an affront to the Court…" He went on to say that Marshal of the Court Gail Curley will begin investigating to determine who was behind it. However, his efforts to find the culprit might not work out, according to the author of the bombshell POLITICO article.
Roberts' Authority?
The whole saga is highlighting how much authority Roberts really has when it comes to investigating the leak and punishing the culprit. Josh Gerstein, a senior legal affairs reporter for POLITICO who broke the story, told Yahoo, "It's not clear [Roberts] has the right to order anybody to cooperate."
What the Marshal and the Supreme Court Police can and can't do is set out under 40 U.S.C. § 6121, and that might limit what Justice Roberts might be able to accomplish. Under this, they are generally limited to being a protective service for the individuals and property of the Supreme Court Building and the individual justices wherever they may be.
Scholars and attorneys have been quoted in media sources saying that it may not be as simple as him simply ordering an investigation. Some of the questions that have come up include the authority to issue subpoenas or to compel an individual justice's staff to give statements. Further, Roberts and Curley might not have the ability to punish the perpetrator beyond firing them.
Is a DOJ Probe Possible?
Republicans in Congress have said they want the FBI and the Department of Justice to use their police powers to help track down the leaker and bring the full weight of the law down upon them.
There are questions on whether justices would want investigators digging through phone records and the like, or if they even have the legal ability to open a probe in the first place. Some experts have said that although the leak was bad, it might not have been illegal. In other words, the country will have to continue to wait to see if the culprit will be brought to justice, or if they'll be allowed to skate away without consequences.
Copyright 2022, NewsBroadcast.com