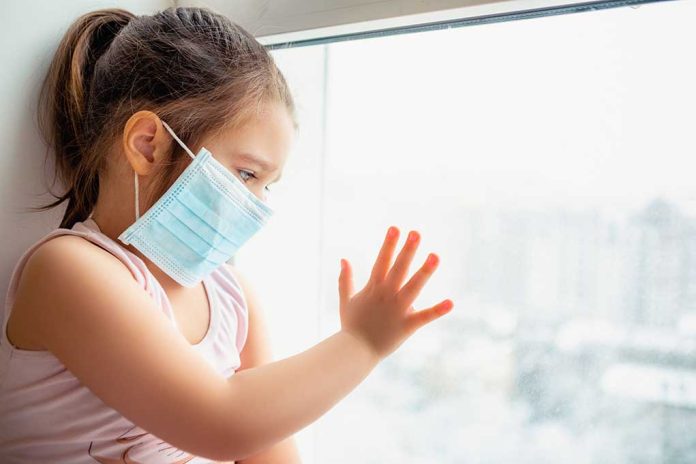 (NewsBroadcast.com) – Parents of babies and toddlers have always had their work cut out for them, but the coronavirus pandemic certainly did not make parenting any easier. With the introduction of mandatory masking in schools and daycare centers, even speech therapists are seeing how COVID-19 protocols, usually promoted in the name of "safety," are affecting the next generation.
Florida Speech Therapist Jaclyn Theek recently told reporters that her North Palm Beach clinic has seen a 364% spike in the number of referrals for children for speech delays during 2021. She believes mask-wearing is a huge cause of this phenomenon.
Theek highlighted the fact that babies and toddlers read lips and facial expressions in order to learn to talk and communicate. By covering up half of a caregiver, friend, or teacher's face with a mask, children are having more difficulty learning to speak. This, in addition to the growing isolation due to social distancing, has likely led to cognitive roadblocks for the next generation.
One concerned news host shared his view of the data on Twitter:
A speech therapist says her clinic has seen a "364% increase in patient referrals of babies and toddlers".

"It's very important kids do see your face to learn, so they're watching your mouth."

What the hell have we done?!

End this cruel insanity. pic.twitter.com/DN6J4yQfju

— Darren Grimes (@darrengrimes_) January 26, 2022
A recent study from Brown University also showed that children born during the pandemic have IQs on average 22 points lower than pre-pandemic children. These are all clear signs that America is failing our next generation. Hopefully, teachers, school administrators, and parents all see what masking is doing to the next generation and take steps to remediate the issues before the children are permanently disadvantaged.
Copyright 2022, NewsBroadcast.com