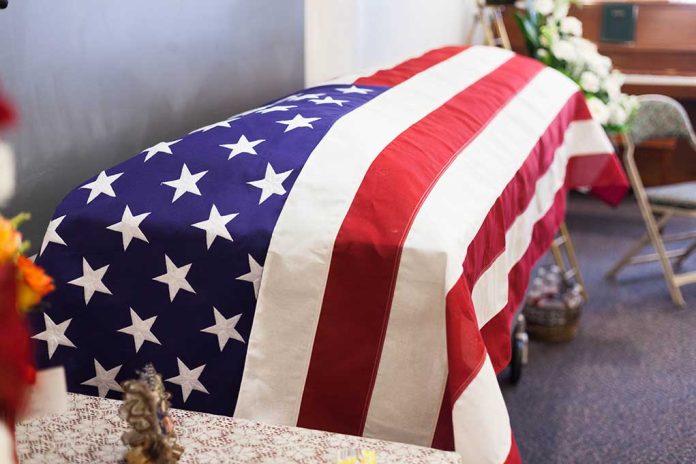 (NewsBroadcast.com) – Smugglers are constantly trying to figure out new ways to bring illegal migrants over the United State's southern border and across the country without raising an alarm. One Texas man thought he could dupe border patrol agents by hiding two illegals in a coffin draped with an American flag. Thankfully, the border patrol officers did not fall for this scheme.
On October 26, 2021, 33-year-old Zachary Taylor Blood met two Mexican nationals in a parking lot near San Antonio, helped them hide inside a casket in his van, and drove north. However, border patrol agents near Falfurrias, Texas, stopped the vehicle and asked what Blood was transporting. Blood said it was a "dead guy, [a] Navy guy," which seemed suspicious, especially since an American flag was hastily taped onto the coffin with packing tape. The agents then had Blood submit to a second inspection and uncovered the two illegal immigrants.
The Hill shared the news on Twitter:
Texas man pleads guilty to smuggling attempt of two people in US flag-draped coffin https://t.co/Aqkes68i7h pic.twitter.com/5HRkkiKSJF

— The Hill (@thehill) January 27, 2022
Blood entered a guilty plea for one account of alien smuggling, and could face up to 5 years in prison and up to a $250,000 fine. Thankfully, border patrol and the US attorneys worked together on this case to bring justice to this odd smuggling attempt.
Copyright 2022, NewsBroadcast.com