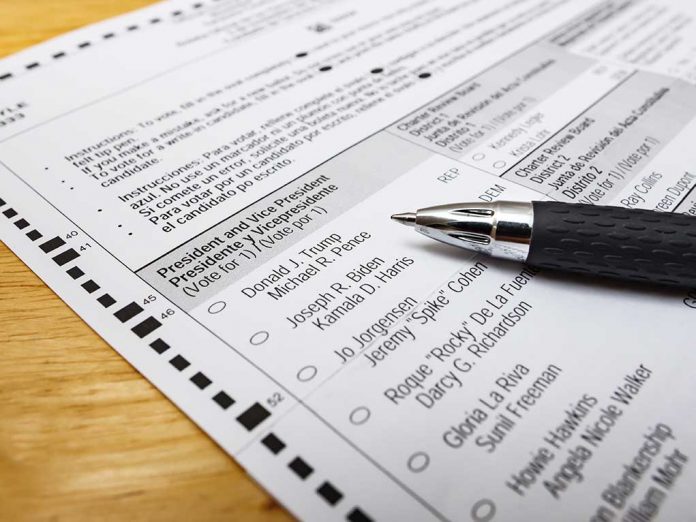 (NewsBroadcast.com) – Before the 2020 election, Americans rarely debated the legitimacy of absentee ballots, as voters had to meet certain requirements in order to use them. However, during the COVID-19 pandemic, many states, including California, passed legislation making universal vote-by-mail an option for individuals in response to temporary quarantines and pandemic related concerns.
On Monday, September 27, California Governor Gavin Newsom (D) signed Assembly Bill 37 into law, requiring the state to send a mail-in ballot to every registered voter in the state. In making this law, California joined Oregon, Washington, Colorado, Hawaii, and others to make mail-in voting a permanent fixture of future elections.
Constituents can then drop the ballots off in certain locations, or mail them back into the election office. However, many critics of the law expressed concerns that this will greatly increase voter fraud in the state, as voter rolls are not up to date and bad actors can tamper with the ballots.
Newsom, obviously excited to enact the popular Democratic law, shared the news on Twitter:
BREAKING: California is now PERMANENTLY a vote-by-mail state.

Because we believe in making voting EASIER and for every voice to be heard. https://t.co/zGXkPPobBa

— Gavin Newsom (@GavinNewsom) September 27, 2021
In 2016, 51% of Californians permanently registered to vote by mail, with that number increasing to over 75% in November 2020. Now, 100% of eligible voters will receive these ballots, drawing out the election season as voting starts earlier and likely making votes more difficult to track. While this law goes into effect in January, it is likely the vast majority of Californians will still vote by mail this November.
Copyright 2021, NewsBroadcast.com