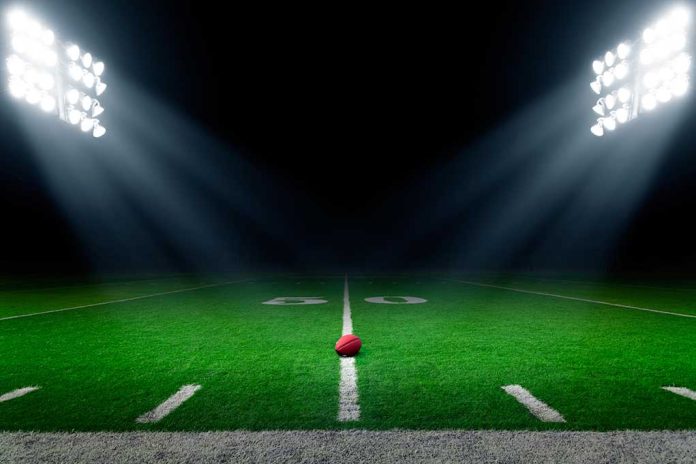 (NewsBroadcast.com) – When attending youth sports games and practices, there's always the element of the unknown. Coaches can be too tough on the kids, parents attack coaches and someone ultimately brings the wrong snack. But one youth program in Jefferson City, Missouri, got the shock of a lifetime when a woman ran onto the field during practice.
Recently, eighth-graders were practicing on Helias Catholic High School's football field, when they were interrupted by a streaker. The naked woman, Lacey Uthe, 27, was wearing nothing but a scarf when she jumped the fence at Helias Football Stadium and made a run for it.
Someone called the authorities who showed up while Uthe was still on the field. They arrested her on the spot.
Unintended Consequences
According to Uthe, streaking was not in her day's plans. Instead, according to reports, she was afraid for her life. Earlier in the day, she ingested heroin and thought she would die. Her intention was to seek out medical help, but she ended on the football field. After arresting her, authorities transported Uthe to the local hospital to undergo a medical evaluation. She was determined fit for confinement and booked into the Cole County Jail.
On Friday, October 15, prosecutors formally charged Uthe. Because her incident involved underage kids, authorities charged her with a Class E Felony: sexual misconduct involving a child under 15. This charge carries a prison term of up to 4 years and/or a fine of up to $10,000. She was released from jail after posting a $10,000 bond.
This case is more serious than an incident at a professional sports game for one main reason: the suspect exposed herself to minors. Whether she intended to or not, it still carries a hefty penalty and could result in formal designation as a sexual offender. This possible eventuality, of course, is up to authorities, but she's not off the hook yet.
It's also possible Uthe could merely face probation, but it's unlikely since she has a prior criminal history. According to the New York Post, she has had several run-ins with the law since 2014. The judge could hold this against her during sentencing, but it's anybody's guess how it will end up.
Hopefully, Lacey has learned her lesson about the dangers of drugs, and the scars inflicted upon those eighth-graders fade quickly.
Copyright 2021, NewsBroadcast.com