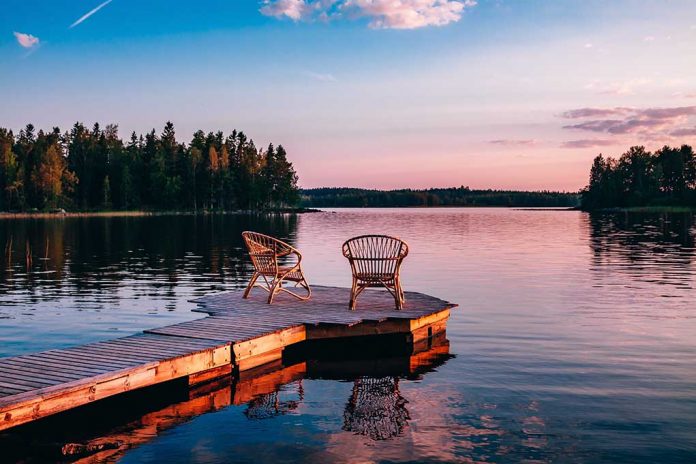 (NewsBroadcast.com) – After being violently attacked by an animal, humans would typically distance themselves from the carnivorous predator and reevaluate their life choices. But, one animal handler in Utah did not follow that line of thinking. After an alligator chomped down on her hand and wrangled her into the water, she affirmed she still "loves" him and just chalked it up to him "having a bad day."
Handler Lindsay Bull was showing off her alligator, Darth Gator, during a children's birthday party at Scales & Tails in Salt Lake City, Utah, when the enormous reptile bit down on her hand. Party guest Donnie Wisemen quickly saw what was happening and exclaimed, "we've got trouble in here," as he jumped into the water to wrestle the alligator.
Bull eventually got her hand out of Darth Gator's mouth after Wisemen subdued the alligator a bit by lying on top of him. The children watching the scene unfold quickly burst into tears as their mothers whisked them away from the horrifying scene.
Thanks to an orthopedic surgeon, Bull will have full use of her hand with a bit of therapy. Sky News shared Bull's odd reaction to Darth Gator's attack:
An animal handler attacked by an alligator as crying children looked on has said she "loves" the reptile and that it should not face any consequences https://t.co/yopp6PuD6s

— Sky News (@SkyNews) August 20, 2021
Bull continued to stand by the alligator's actions, saying he likely confused her hand with the chicken he was about to be fed. Shane Richins, the Owner of Scales & Tails, confirmed he plans to keep Darth Gator around as long as possible, saying he just "got a little extra spunky" that day.
It seems like Ms. Bull may not have learned her lesson to leave massive reptiles alone, but at least she has both her arms – for now.
Copyright 2021, NewsBroadcast.com