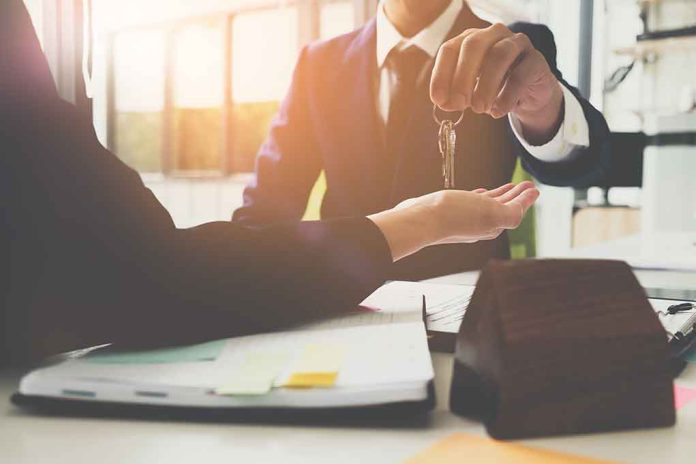 This FREE Down Payment Assistance Guide Has Everything You Need To Know
(NewsBroadcast.com) – For many potential homebuyers, what they see as a barrier to home ownership is a large down payment. What many buyers don't know is that there are lots of programs to help out with the down payment, and some loans that don't require any money down at all.
How Mortgages Work
Very few people have the cash on hand to buy a home, so they take out a mortgage loan. Typically, the mortgage lender requires a down payment—a percentage of the purchase price that they pay as part of the loan settlement. A mortgage loan settles when all the paperwork is signed and the new deed is recorded at the county courthouse. Lenders handle all the paperwork involved with the loan process, and most of the costs associated with getting the loan are paid when the buyer signs the loan papers. These are the closing costs, and include things like lender fees, vendor charges, taxes, and other costs. Closing costs are another reason many people don't pursue home ownership. They think that they'll have to pay thousands in closing costs on top of the down payment.
How Buyers Can Get Down Payment and Closing Cost Assistance
Private mortgage lenders, state and federal governments, and non-profit agencies all offer help for eligible first-time home buyers. This money comes in the form of grants, gifts, and some 100% financing programs. Prospective buyers should look online for assistance resources in the area they want to live in, or as their loan officer for information on these programs. The amounts that people qualify for are based on a variety of factors, from zip code to demographic status.
Federal Loan Assistance
The most common mortgage program for first time buyers is an FHA loan, but the government has other loan programs for qualified borrowers.
FHA
Buyers can put down as little as 3.5%, and that money can be a gift. Closing costs can also be gifted, as long as it's a documented gift with no expectation of repayment. FHA loans require at least a 600 credit score, and debt limits are higher than conventional loans.
Some buyers get down payment and closing cost funding from Chenoa funds. Chenoa is designed for low income borrowers from diverse populations to have a better chance at homeownership. The program is an overlay of FHA lending, with the same credit requirements. Buyers can get up to 5% of the purchase price and include closing costs with Chenoa funds.
VA
Veterans of the US  military and surviving spouses are eligible for loans that are guaranteed by the Veterans Administration. These loans fund 100% for veterans who have a Certificate of Eligibility (COE) and meet the lender's loan guidelines.
USDA
The US Department of Agriculture also offers 100% financing to buyers who want to live in designated rural areas. USDA guidelines are more lenient than most loan programs since borrowers may have a shakier credit history and lower income requirements than other loans.
Conventional Loans
These are the loans that borrowers think about when they worry about 20% down payments. In reality, people with a high credit score—at least 720— and good income can also obtain conventional, or Fannie Mae, loans with only 3% down.
Conventional 95 or 97 Loans
Borrowers who put down 3% or 5% may qualify for assistance through gifts or grants. Borrowers who use these programs have to complete the Fannie Mae HomeView course as part of qualifying. Borrowers can also use a Community Seconds mortgage to pay the balance of the down payment and closing costs.. These are secondary mortgages that a third party lender provides to the buyer, and is simply a second lien, secured by another deed of trust, on the property.
HomeReady
HomeReady loans are an alternative to government FHA loans. The guidelines and down payment requirements are similar, with flexible funding options for down payments and closing costs.
Grants
Buyers can get grants for down payment assistance (DPA)  and closing costs. Grants are free money that don't have to be repaid, and are usually available through local or state agencies. Some employers offer DPA, ask your employer if that's a benefit.
You Can Buy a Home With DPA
You may be able to buy a home right now with the right DPA programs. Ask your lender or go online to find out the options that are available to you.
Copyright 2022, NewsBroadcast.com