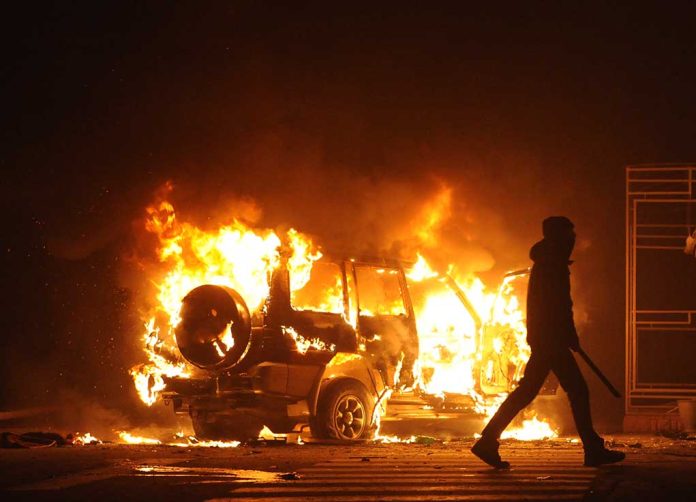 (NewsBroadcast.com) – Following the death of George Floyd at the hands of Minneapolis police in May 2020, riots broke out across the country. The damage was astronomical, but few people seemed to be held responsible for their actions. Now, that's beginning to change.
On Friday, January 14, US District Judge Wilhelmina M. Wright sentenced Montez Terriel Lee (26) to 10 years in prison, for his part in setting fire to a pawn shop in Minneapolis. After his sentence, he'll have 3 years of supervised release.
The Crime
Following George Floyd's death, where he was held down by former police officer Derek Chauvin's knee for more than nine minutes, the city erupted into total chaos. On May 28, 2020, just three days after Floyd's death, Montez Terriel Lee, along with unnamed others, decided to break into the MaX It Pawn Shop before setting it ablaze. Video footage shows him at the scene not only dousing the entire shop in what looks like gasoline while others were looting, but then standing outside saying "F—- this place. We're gonna burn this b—- down." It was these videos that led to his arrest and subsequent guilty plea on one charge of arson.
The arson in itself was horrifying, but what authorities discovered nearly two months later was even more horrid. On July 20, 2020, authorities discovered the body of a man in the charred remains of the pawnshop. The Hennepin County Medical Examiner's Office said Oscar Lee Stewart, 30, died of "probable inhalation of products of combustion and thermal injury (building fire)."
Lee wasn't charged with Stewart's death directly, but prosecutors said it must factor into his sentence, which it ultimately did. The prosecution argued for a 144-month sentence, while the defense pleaded for Lee to have another chance at life, suggesting an 88-month sentence.
Lee's response to the sentence was hopeful — he said he didn't agree with the way he handled things that day, but doesn't disparage the reasons he had for doing so.
Other BLM Convictions
Lee is just one of several rioters who had to face the consequences of their actions. In December 2021, Richard Rubalcava was also sentenced to 10 years in prison for his part in setting fire to a Dollar General in Raleigh, NC. Additionally, he was ordered to pay restitution to the tune of $350,000.
With the witch hunt on the Jan 6 protestors, many of whom are facing long sentences and awful jail conditions for their parts in the event, it's encouraging to see some BLM rioters and looters finally facing justice.
Copyright 2022, NewsBroadcast.com