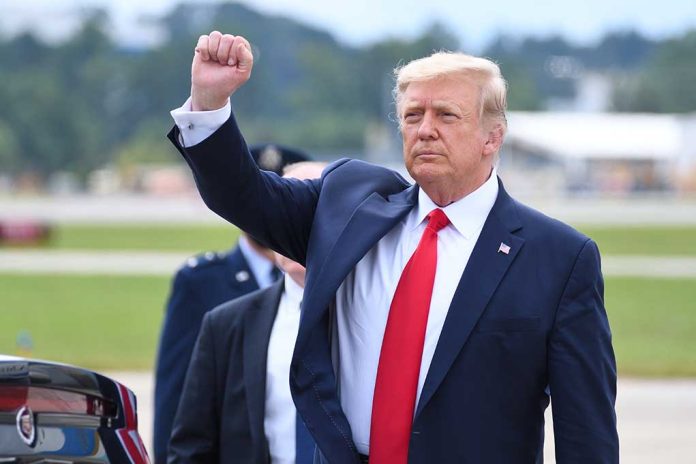 (NewsBroadcast.com) – The 2020 presidential election was rife with controversy. In the aftermath, former President Donald Trump claimed fraud and proceeded to use every platform he could to raise awareness about the circumstances, including calling out several allegations of treachery in different states. However, after the Capitol Hill riots on January 6, his voice was effectively silenced by social media platforms. In the months following, he's been able to reach out to his supporters, keeping them informed on his "Save America" website. Now, he's found another avenue to get his voice out.
Trump Calls Out WSJ
On Wednesday, October 27, The Wall Street Journal published an Op-Ed written by the former president. In the piece, he addressed another article by the newsgroup, which said the 10,000 ballots in Pennsylvania that arrived after election day wouldn't have made a difference. They "didn't matter because Mr. Biden won the state by 80,555," the editorial board wrote.
Trump took serious issue with this claim, saying they never should've been counted in the first place, and he insinuated that they did, indeed count those, which led to his loss. He also cited examples backed up by a small organization, Audit the Vote PA. The former president went on to say "the election was rigged," which he has contended since day one.
Republicans Call for Election Investigation
Trump's Op-Ed came in a timely fashion. Shortly before he penned the letter, Pennsylvania Republicans called for a "forensic investigation." They also asked anyone who witnessed any type of voter fraud or irregularities to come forward and help the endeavor, despite a state audit proving the validity of Biden's win and the issue with the uncounted ballots.
Wall Street Journal Backlash
After the Op-Ed ran, the publication received tons of backlash from political commentators and other journalists alike. They said it tarnished the WSJ's reputation and spread election misinformation, calling Trump's statements a "bunch of falsehoods."
Initially, WSJ spokesman Steve Severinghaus ignored requests to comment on the newspaper's decision to publish the content. However, on October 28, the publication responded to the backlash, saying they ran the letter as Trump wrote it because "We trust our readers to make up their own minds," which is the way it should be.
The reality is there are still ongoing investigations into these claims and several incidences that authorities deem worth a further look. As long as there remains even a smidgeon of doubt, shouldn't we wait to see how those play out before coming to a definitive conclusion?
Copyright 2021, NewsBroadcast.com