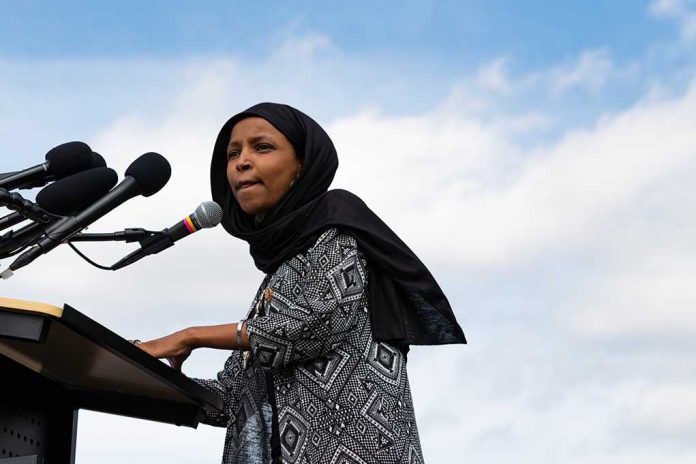 Ilhan Omar's RACIST Slip Is Downright Disgusting
(NewsBroadcast.com) – There is a lot of talk amongst Democrats about inclusion and anti-bigotry. Still, it sometimes seems to be another topic where their hypocrisy can shine. Rep. Ilhan Omar (D-MN) has demonstrated that hypocrisy throughout her history in Congress with her anti-Semitism. Now, it appears that her hatred for Israel has caused her to fan the flames of controversy before the facts are in on a recent tragedy — again.
Shireen Abu Akleh worked for the Al Jazeera media group. She was shot and killed while covering an exchange between an Israeli military operation and a group of Palestinians in the West Bank. While gunfire was being exchanged between the two groups, she was hit and lost her life. As one might expect, there was no immediate indication of whose weapon the fatal shot came from.
Rep. Omar, however, had no intention of letting an investigation into the matter get in the way of her opinion. Before an inquiry could even get underway, she took to her Twitter account and told the world that "she [Akleh] was killed by the Israeli military…." Omar went on to air one of her more frequent complaints: the $3.8 billion in military aid the United States gives to Israel, the biggest ally the US has in the volatile Middle East.
She was killed by the Israeli military, after making her presence as a journalist clearly known.

We provide Israel with $3.8 billion in military aid annually with no restrictions.

What will it take for accountability for these human rights violations? https://t.co/MGSVc6jYXJ

— Ilhan Omar (@IlhanMN) May 11, 2022
The congresswoman was the target of an unsuccessful resolution condemning her anti-Semitic comments in 2019. At that time, even Speaker of the House Nancy Pelosi (D-CA) "denounced" her statements and called for an immediate apology from Omar. Apparently, she hasn't learned her lesson and has decided to maintain her bigoted positions.
Copyright 2022, NewsBroadcast.com