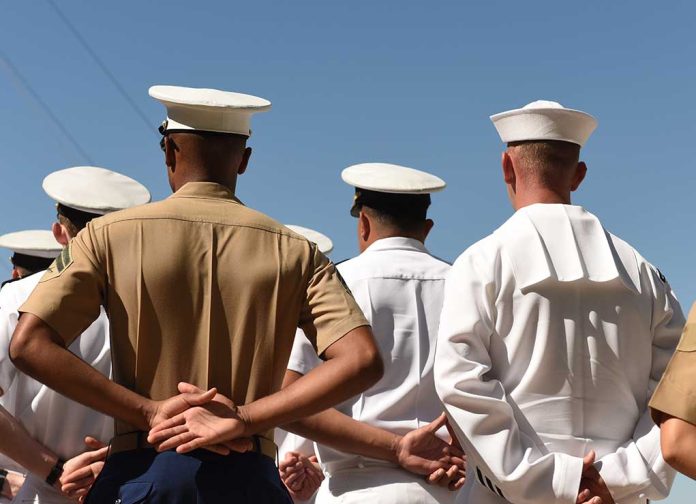 Jailed Abroad! – Navy Lieutenant's WIFE Makes Desperate Plea
(NewsBroadcast.com) – President Joe Biden's administration recently made overtures to Russia seeking the release of WNBA star Brittney Griner and former United States Marine Paul Whelan in exchange for the release of convicted Russian arms dealer Viktor Bout, the so-called "Merchant of Death." However, it seems, that little attention has been spared by the Oval Office for what seems to be a miscarriage of justice committed by our allies in Japan in the case of Navy Lieutenant Ridge Alkonis
In July, a Japanese judge sentenced Lt. Alkonis to three years in prison after an auto accident in Fujinomiya left two Imperial citizens dead. He had just finished a hike on Mount Fuji, which neurologists said caused "Acute Mountain Sickness", causing him to faint while driving. His ongoing incarceration has forcibly separated the naval officer from his wife, Brittany, and their children.
Starting at midnight EDT tonight, the Japanese government is going to imprison U.S. Navy Lt. Ridge Alkonis. His "crime": he had a medical emergency (not his fault) that caused a car accident. https://t.co/xsJNlV5aOd

— Mike Lee (@SenMikeLee) July 25, 2022
Brittany made a desperate plea for her husband's release during a recent appearance on Fox News Digital. She said she was speaking out for the sake of her children. "While it's hard for us," the individuals suffering the most were their kids. "They need a father," she exclaimed.
While little has been said by the administration, the lieutenant has seen bipartisan support in Congress, with several lawmakers condemning his sentence. Many believe this situation may be politically motivated in an attempt to pressure the United States about the Status of Forces Agreement between the two countries.
Similarly, the Griner case is very politicized because she is black and openly gay. As such, the LGBTQ+ community is outraged over what they consider her "wrongful detainment."
The basketball star's case is centered around hashish oil found in vape cartridges that she had at the Moscow airport, which is a violation of Russian law. One difference between the two cases that the Left seems to studiously ignore is that she has pled guilty to the act.
Copyright 2022, NewsBroadcast.com