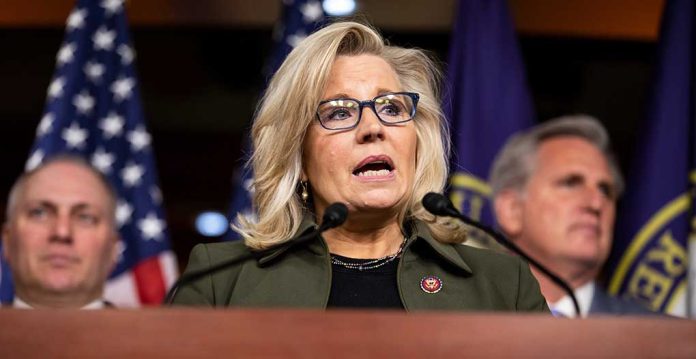 (NewsBroadcast.com) – Republicans have been critical of House Representative Liz Cheney (R-WY) since she voted to impeach former President Donald Trump for his alleged association with the events of January 6. Cheney's ongoing comments against the 45th president eventually brought the Wyoming GOP to censure her in February and vote her out of the party this November. Despite their clear disapproval with her, Republican National Committee Chairwoman Ronna McDaniel tried to give her a status boost.
On Thursday, November 18, McDaniel declared that Cheney is "obviously…still a Republican" at a Washington DC Christian Science Monitor breakfast. McDaniel emphasized that while the Wyoming GOP is "the most grassroots body that a state has," therefore the most in touch with her constituents' desires, Cheney still has an "R" by her name until the next primary where she will likely get voted out.
The Hill shared more about McDaniel's comments:
McDaniel says she still considers Cheney a Republican despite Wyoming GOP vote https://t.co/EE70Y4wM7o pic.twitter.com/88EM0dbJEz

— The Hill (@thehill) November 18, 2021
To try and regain some semblance of respect, Cheney's office issued a statement declaring it is "laughable to suggest Liz is anything but a committed conservative Republican." Though, the statement does little to undo the ongoing anti-Trump comments from Cheney as well as her service on Nancy Pelosi's January 6 investigative committee.
These words are simply too little too late to recover Cheney's allegiance to the party. So, it is likely Wyoming voters will oust Cheney in her next primary, and perhaps McDaniel's time is coming to an end as well if she continues her vocal support of the disavowed congresswoman.
Copyright 2021, NewsBroadcast.com